On the 'plane back from UXLx, Lisbon in May 2011 it struck us. If we ever wanted to start a podcast this was the perfect time.  So we did.  It wasn't like we really had any time on our hands. But hey, with the right amount of passion, who needs time!?
During the conference Per and James were both struck by the amount of talk, debate and frustration within the UX community present about organisational silos. In many ways the conference was one giant therapy session for 500 UXers. OK, perhaps a bit of an exaggeration… but there was clearly a need for some silo busting.
Whilst on the 'plane back to Stockholm, Sweden, mindmaps were produced, ideas were sketched, a domain name pulled out of Per's substantial collection and within a few days of arriving home the first pilot show – about UXLx 2011 – was published.
Vision
UX Podcast is for people passionate about balancing business, technology and users within the realm of digital media. We hope to move the conversation beyond the traditional realm of User Experience.
It's not just for UXers, it's for everyone with a foot in the digital door. Sometimes we'll shoot high, sometimes we'll shoot low. Nevertheless, we aim to spread knowledge and break down silos.
What, when and how?
The show is recorded twice monthly. We publish a new episode every other Friday.
The podcasts are produced in one of the following formats: a link show, a guest show, a topic show or an event show.
If it's an event that we are attending, then we often produce a series of "live" shows (and publish the shows instantly!).
A few times a year we host live Listener phone-ins where we are joined by Danwei Tran Luciani and open up the video channels and ask listeners to "call in" and talk to us.
If you're a podcast nerd, then you might be interested in knowing what kit we use and how we produce the show. Usually the show is recorded in James's studio at Beantin HQ in Stockholm or Studio Axbom in Solna.
About Per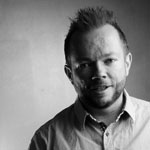 Per Axbom has been active in user centred design for digital media since the late 90s. Through the years he has worked with usability, information design and online business development for more than 40 Swedish and international organizations of all shapes and sizes.
In 2010 Per started his own company, Axbom Innovation AB and currently works as a freelancer.
You can find Per as @axbom on Twitter.
About James
James Royal-Lawson has been experimenting with and successfully managing online communication since the first time he heard a modem carrier tone as a teenager in 1986, and professionally since the late 90s.
Since 2000 James has been working in Stockholm, Sweden with web and intranet management, digital strategy, usability, analytics and optimisation for a number of Swedish and international organisations.
In 2006 James started his own company, Beantin webbkommunikation and currently works as a freelancer.
You can find James as @beantin on Twitter.